I am a big fan of sunflower seeds (not salty ones) and as you might know they are a very good source of Vitamin E, along with other minerals and proteins. I try to use them whenever I can i.e Bread, Salads, Cookies etc... and they taste great. I served this bread for breakfast and my family did enjoy it.
I'm submitting this post to
Susan's Yeastspotting
, a
WONDERFUL BREAD BLOG
devoted to yeast bread food. Please check it out!
-
400g white flour
/ 400g de farine blanche
-
100g whole wheat flour
/ 100g
farine de blé entier
-
2 teaspoons dried yeast
/ 2 c à thé de levure de boulangerie séchée
-
Pinch of salt
/ Une pincée de sel
-
1
tablespoon
olive oil
/ 1 c à soupe d'huile d'olive
-
2
tablespoons
caster sugar
/ 2 c à soupe de sucre semoule
-
Some warm water to knead the dough
/ De l'eau tiède pour pétrir la pâte
-
4
tablespoons sunflower seeds
/ 4 c à soupe graines de tournesol
1-
Put the yeast, sugar and some warm water (about 30ml) in a bowl, mix well, cover and leave until bubbles appear on the surface (about 30 minutes).
/ Diluer la levure
avec le sucre et environ 30ml de l'eau tiède et laisser reposer 30 minutes. Normalement, il doit y avoir des bulbes qui
se
forment à la surface du mélange de la levure.
2-
Put the flour and salt in a large bowl or 9assriya (quassria), make a well in the centre and add the yeast mixture and oil, then mix well with your hands, adding gradually warm water. Mix well to a soft dough. Turn it out onto a floured surface or keep it in 9assriya and knead for about 15 minutes or untill smooth and elastic. If the dough is not soft enough, add some more water and keep kneading
. / Dans un grand bol, mettre la farine et sel, faire une fontaine, ajouter le mélange de levure et l'huile, bien mélanger avec les mains. Ajouter graduellement de l'eau tiède et former une pâte . Bien pétrir sur un plan de travail ou dans 9assriya pendant environ 15 minutes jusqu'a que la pâte soit souple et lisse. Si la pâte est dure, ajouter un peu de l'eau et pétrir de nouveau quelques minutes.
3-
Place in an oiled bowl and brush the dough with oil. Cover with plastic wrap or a damp tea towel and let rise for about 1 hour or until doubled in size.
/ Huiler un bol, placer la pâte , badigeonner-la d'un peu d'huile, couvrir avec un film alimentaire ou d'un torchon humide de préférence. Laisser lever pendant 1 heure. La pâte doit doubler de volume.
4-
Punch down and knead for about 2 minutes. Add sunflower seeds and mix until the seeds are evenly distributed
/ Dégaser la pâte, ajouter graines de tournesol et mélanger afin de les distribuer également.
5-
Transfer the log to a lightly greased loaf pan (I used a heart-shape one). Cover with oiled plastic wrap and let rise for about 30 to 45 minutes.
/ Placer la pâte dans un moule à pain (J'ai utilisé mon moule à gâteau coeur). Couvrir avec un film alimentaire huilé et laisser lever pendant environ 30 à 45 minutes.
6-
Preheat the oven to 200°C.
/ Préchauffer le four à 200°C.
7-
Brush with some cold water, score with a knife, sprinkle some flour on top
/ Badigeonner avec un peu de l'eau froide, faire des coupures longues dans la pâte à l'aide d'un couteau, saupoudrer avec un peu de farine.
8-
Bake for about 45 minutes or until golden. Remove from the oven and cool on a wire rack
. /Enfourner le pain pendant environ 45 minutes ou jusqu'à qu'il soit bien doré.
9-
Enjoy!
/ Bssa7a wa ra7!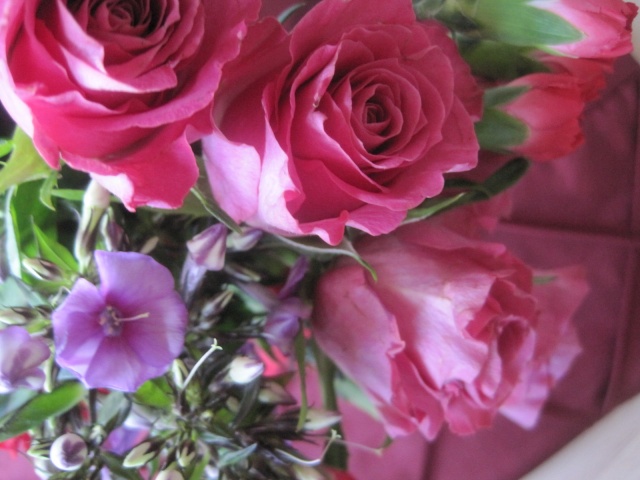 For more recipes of the same category :
Bread/Pain
My Tamazirt-Morocco
Ramadan Dishes
Moroccan Cookies
Fekkas/Fakas
Moroccan Ghoriba-Ghriba
Moroccan Tagine
Couscous From Scratch
Moroccan Massaman
Moroccan Meloui-Malwi
Moroccan Toghrift-Batbout
Steamed Rice, Moroccan Style
Steamed Broken Vermicelli, Moroccan Style
Atay/Fresh Mint Tea
Other Food Links!