The first time I had a bagel was back in Montreal and loved it. I was happy to be given some wonderful recipes by my friends, and there are several versions of bagels, some put milk instead of water, some add eggs, some add only white eggs etc... I tried them all with a couple of tiny tweaks and they all turned out beautifully! However, I opted for a simple version of bagels that I'm posting today.
Mamatkamal
Ingrédients:

-

300 gr white flour

/ 300 gr de farine blanche -

100 gr fine semolina

/ 100 gr de semoule très fine -

Warm water enough to form a smooth and elastic dough

/ De l'eau tiède assez pour former une pâte lisse et souple. -

7 gr dried yeast

/ 7 gr de levure boulangère sèche

.

-Some salt

/ Un peu de sel -

4 tablespoons olive oil

/ 4 c à soupe de l'huile d'olive

-

1 tablespoon caster sugar

/ 1 c à soupe de sucre semoule

Method

/ Préparation:
1-

I used a mixer with a bread hook to make theses bagels. Put the flour, semolina and yeast in a mixer and knead for about 5 minutes, adding gradually water

. / J'ai utilisé le robot culinaire pour réaliser ces bagels et j'ai mis le crochet pétrisseur. Mélanger farine, semoule et levure, puis laisser pétrir pendant environ 5 minute, en ajoutant graduellement de l'eau. 2-

Add oil, salt and sugar, then continue to knead for at least 10 minutes. Mix well to a soft, smooth and elastic dough (if hard and cracking add some water).

/ Ajouter l'huile, sel et sucre et continuer à pétrir au moins 10 minutes jusqu'à que la pâte soit bien souple et élastique. Verser graduellement de l'eau si necessaire. 3-

Place in a large bowl, cover with plastic wrap or a damp tea towel and let rise for about 4 hours.

/ Placer la pâte dans un grand bol, couvrir avec un film alimentaire ou d'un torchon humide de préférence. Laisser lever pendant 4 heures.


4-

Divide the dough into equal balls. Press deep into the center of the bagel and tear open with your fingers; pull the hole open.

Set them on a clean, dry towel

with space between them

and put some flour on the towel in case they will stick

/ Diviser la pâte en boules égales. Presser le milieu de chaque boule, puis élargir le trou au milieu avec vos doigts pour créer un cercle. Disposer de façon assez espacée sur un torchon propre bien fariné.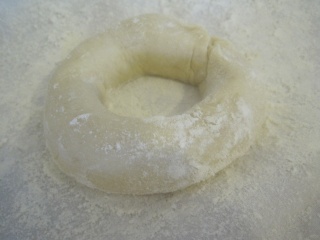 5-

Put a big pot of water to boil, put the bagels, one by one in the water for about 30 seconds each on each side, turning them over carefully.

/ Faire bouillir de l'eau dans une casserole et plonger les bagels un à un. Laisser cuire environ 30 secondes de chaque côté (pas plus).

6-

Place them onto a lined baking sheet, spacing them well apart

and s

prinkle each with the topping of your choice

.

/

Déposer sur une plaque sulfirisée de façon assez espacée, et parsemer de garniture de votre choix.

7-

Preheat the oven to 180°C.

/ Préchauffer le four à 180°C.
8-

Cover and let rise for 30 minutes or until the indentation left by a fingertip springs back very slowly

. / Couvrir et laisser pousser pendant 30 minutes ou jusqu'à ce que l'empreinte d'un doigt sur la pâte reste visible.
9-

Let cook for about 10 minutes, then remove from the oven. Brush with a mixture of some warm water and a pinch of salt, then return to the oven for 15 to 20 minutes.

/ Cuire pendant 10 minutes. Sortir les bagels et les badigeonner avec un peu de l'eau tiède salée et retourner au four pendant 15 à 20 minutes environ.
10-Remove to a rack and let cool /

Placer sur une grille et laisser refroidir.

11-

Enjoy

/ Bssa7a w ra7a .