Ingredients /
Method
:
-4 blancs d'oeuf (ils étaient congelés, je les ai sorti 2 heures avant de commencer la préparation) /
4 egg whites (frozen, removed from the fridge 2 hours before)
-300 g sucre glace /
300 g icing sugar
-140g d'amandes finement hachées en poudre /
140g ground almonds (powder texture)
-2 gouttes de colorant alimentaire orange ou 5ar9oum /
2 drops orange food colouring
-2 gouttes d'essence d'orange, mettre plus si vous voulez une couleur plus foncée. Faites attention de ne pas rendre le mélange trop liquide en ajoutant les gouttes /
2 drops orange flavour, add more drops if you wish.
The number of drops you put in depends on how strong you want the colour but not too much, otherwise the mixture will be too liquid.
-Une pincée de sel /

Pinch of salt
- 1 c à soupe de poudre de blanc d'oeuf /
1 tabsp egg white powder
Préparation
:
-Faire chauffer la poudre d'amande au four a 80˚C au minimum pendant quelques minutes. Ne la griller pas, juste pour enlever l'humidité /
Warm almond powder in the oven at

80˚C

, for a few minutes to get rid of humidity in the powder.
-Battre le blanc d'oeufs pour au moins 3 minutes /
Whisk the egg whites for at least 3 minutes.
-Ajouter un peu de sucre à la fois, diviser-le a 3 ou 4 portions. Continuer à battre entre chaque ajout. /
Whisk in the icing sugar in 3 or 4 batches, whisking well between each addition.
-Ajouter le colorant, sel et saveur à l'orange avec la derniere portion de sucre. /
Add colouring, salt and flavour with the final addition of sugar.
-Continuer à battre pour autres 3 minutes. La texture de la pâte doit ressembler à la mousse de rasage lol /
Keep whisking for about 3 minutes or until the mixture looks a bit like shaving foam lol
-Avec une cuiellère , incorporer délicatement les amandes, tamiser les amandes sur le mélange, une petite portion à la fois. Ne pas trop mélanger. /
Sift the ground almonds, and using a spoon, gently fold through the ground almonds, a little at a time. Don't over mix.
-Mettre un peu de pâte sur les coins des plaques et couvrir avec du papier parchemin, bien presser pour faire coller le papier /
Dab a little of the mixture in the corners of each sheet to secure paper.
-Utiliser
la poche avec une douille lisse
, verser des petits cercles, espacer-les. Laisser reposer pour à peu pres 30 min./
Using a piping bag fitted with a smooth nozzle, make circles , leaving space between them, and leave to sit out for about 30 min.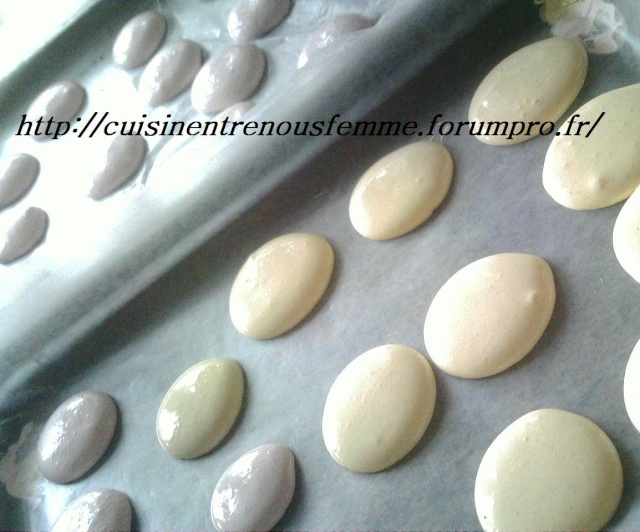 -Apres 30 min. on peut voir qu'il y a une croute qui se forme sur les biscuits /
After 30 minutes, we can notice a skin starts to form
.
-Préchauffer le four à 180˚C (avec fan 160˚C ) /
Preheat the oven at 180

˚C , 160˚C

fan
-Mettre au four pendant 20 à 25 min. Laisser la porte de four, un tout petit peu ouverte. /
Bake for about 20 to 25 min , leaving the oven door slightly ajar to allow steam to escape.
- Au moment de servir, faire des sandwitches et garnir avec un fourrage à l'orange. Il faut faire attention de ne pas les briser. Procéder le plus délicatement possible /
When ready, carefully spread some orange flavour cream over the half biscuit, then gently sandwich together.
-Bssa7a w ra7a /
Enjoy!